Angel art: the worlds greatest manifestants
Anton Heyboer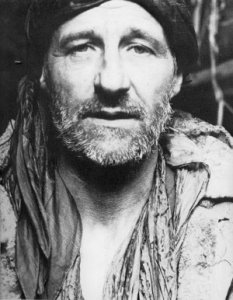 Anton Heyboer dies 9 april 2005
the uncrowned King of Angel Art
"Love As Art"
If there would ever be crowned a King of angel art, my vote would go to artist Anton Heyboer. This Indonesia born Dutch artist actually lives the art of spiritual communication, the art of angel drawing, together with his 4 wives, Maria, Lotti, Marike and Joke. The man is chronically transcendental, and lucidly so he is fully aware that he has reached the highest possible form of active enlightenment, consciously living love and existing inside the state of insanity.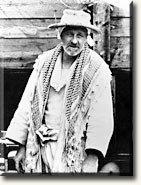 Lotti Heyboer: Anton creates universal life
Anton works to escape insanity. He creates life. Universal life. It is impossible to own cocreated life, so he has not a life of his own. His paintings are his life, they were not created as art. Just because they are cocreation, they are art.

Anton Heyboer: "My life ís Art and I don't create it."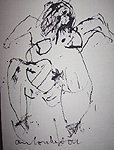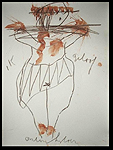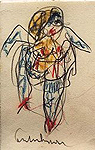 "I don't want to belong to the Art's community. They create Art but they don't live it. They have one life and in the other they create Art or vice versa. And that is why I rather not interact with those kind of people. My life is Art and I don't create it. In that life I touch things which consequently become Art. Because my life is Art."
Maria Heyboer: "Anton creates from absolute Nothingness".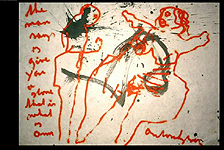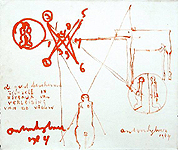 Ton creates in moments that life for him has become totally useless. Shere miserably he goes to his workshop and creates something; there he envisions something in a flash that enables him to continue. But not long. Sometimes only a day, or a few hours, but never longer than two days. Slowly he will return into depression of becomes childish and depressed. In between there is no way to exist for him. He himself does not believe in his work as an artist and says that he looks straight through it. For him believing is in that one little moment of creation. There, he envisions something. But when that is passed, no faith remains as something to hold on to. He must continiously create from total nothingness, and bé in total nothingness to resume creation".
Anton Heyboer: "I control the realm of Nonsense".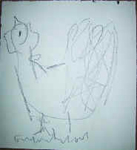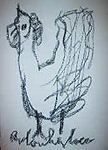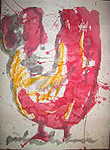 "In fact, what we are doing with our lives here, is that I am utterly insane and you together are insanely prepared to live with that spirit. You control that insanity together and I control the realm of insanity. And when those two connect and interact, one gets the most intense lifeform."
Marike Heyboer: "Ton's work is an extreme form of life".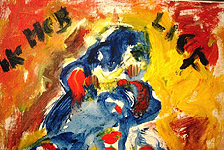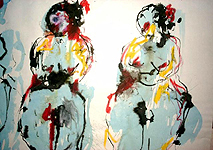 Ton has created his system to be able to live, to enrich life with purpose. It is an extreme form of life. In weak moments you relapse, yet you hold on to that what Ton created. Ton, Maria and Lotti are my purpose in life. What I am learning is to live day and night in this extremity and not relapse in less extreme ways of living. Only then I will be completely happy. Ton's work is also an absolute extreme. It's either you see it at first glance and then everything becomes unimportant, or you don't see it at all."


---
Today, april 9, 2005, The King of Angel Drawing Dies
Burial at den Ilp, april 12, 2005